Put together a golf vacation using Expedia's package creator. Enjoy over thousands of unique golf vacation packages and resorts. To begin planning your vacation, use the vacation planner below
Palm Beach, Florida
Birds fly to Florida every winter to renew themselves … why not you? This legendary resort's spa menu focuses on rejuvenation. Try the Imperial Massage, where you'll be surrounded by a 150-year-old fragrance created for the Empress Eugenie.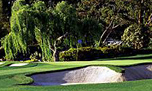 Carlsbad, California
For those who expect the grande dame of West Coast spas to be stuffy and old school, prepare to be surprised. An Ayruvedic team—led by the renowned Dr. Deepak Chopra—features Indian-style treatments, and the salon offers feng shui-inspired service.
Phoenix, Arizona
The legacy of the legacy golf resort? A rich history of the Old West. A challenging and engaging golf course. An oasis of gren at the base of Phoenix's scenic and well known south Mountain.
Create Your Golf Vacation Package